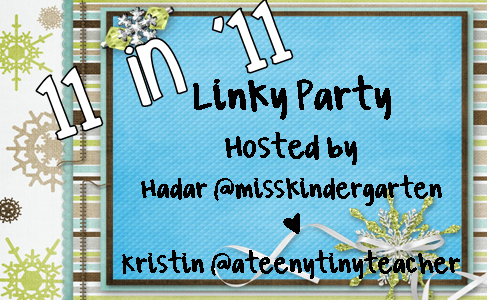 Here's my 11 in 11:
11. Favorite movie you watched:
I actually went to some movies this year! (Normally I have spent my time in the po-dunk - is that a word?! - part of South Dakota for much of the year, but this summer I lived in a bigger town so I actually got out some!) To name a favorite though...hmmm... Let's just say I'm happy that I went to the movie theatre more than once this year! That is my favorite as far as movies go!
10. Favorite TV series:
I am in LOVE with Grey's Anatomy. Yes, it's been around awhile, but I still love it! Not having cable (or even the basic free channels for that matter) makes it hard to stay up on the "newest" shows. I also enjoy Army Wives, Private Practice, and Bachelor Pad.
9. Favorite restaurant:
There is a new little joint in my current town that I am really enjoying! This great guy I just met took me there last week and I hope we go back real soon.
As far as bigger chains go, I cannot get enough Olive Garden! Have you ever had their chicken alfredo pizza? Seriously!! BEST EVER! Imagine Olive Garden breadsticks as a crust with their alfredo sauce on top, plus chicken. YUMMY!
8. Favorite new thing you tried:
I don't know if this was my favorite, but I worked in a factory this summer. SOOOO not for me! But, with that being said, I like to try new things and I always figure there will be a point in my teaching career when having that experience will come in handy. (And - even if it doesn't - the extra $$ made over the summer months wasn't too bad!)
7. Favorite gift you got:
When I left my last school district they gave me a $30 gift certificate to use at Really Good Stuff. It wasn't anything big, but it meant a LOT to me that they cared enough to give me something as I left. Some days I still wonder why I ventured further into western South Dakota, but I don't regret my decision. I will always have dear memories and friends back there!
6. Favorite thing you pinned:
You want me to list one thing! SERIOUSLY!? Hmmm.... How about my favorite thing being that I started pinning. I love getting e-mails that someone pinned something I posted. It feels so good to know that I may have saved a teacher time or given a child some great educational experience due to a simple pin!
5. Favorite blog post:
My favorite blog post or one from someone else? Well, actually they would be one and the same! Sub Hub had a great post about using the book The Giving Tree in the classroom. I loved her idea so much that I HAD to do it and then blog about it as well. :)
4. Best accomplishment:
In February 2011 I was chosen as the only representative from the state of South Dakota to attend a Praxis Standard Setting Committe meeting in New Jersey to help develop the new cut-off scores for the new PLT Praxis exams. It was such an honor that the Department of Education chose me for something like that!
3. Favorite picture:
This one was taken in my classroom on St. Patrick's Day. That holiday may very well be turning into my favorite as a teacher. We set leprechaun "traps" and wrote letters to the leprechaun. He DESTROYED our room, but it was sooooo much fun!
2. Favorite memory:
I have so many great memories from 2011... However, I think the best one is going to come later this week. My immediate family has not yet been together to celebrate Christmas. We are going to do that this Friday evening. Somehow, I am willing to bet that seeing my mom's reaction to his 2011 Christmas present is going to be the best memory of the entire year!! (I'll have to let you all know later what it is - she might venture over and read this post!)
1. Goal for 2012:
There are so many goals. I need to get into better shape, find a regular education classroom again (there's nothing wrong with my special ed position this year, but it's simply not where my heart truly is), and find balance between teaching, my part-time job, TeachersPayTeachers, my family, and this amazing new man who just came into my life. :)
~~~~~~~~~~~~~~~~~~~~~~~~~~~
I hope you all enjoyed learning a little more about me both personally and professionally! Here's to the best you in the New Year!!